Scroll to navigate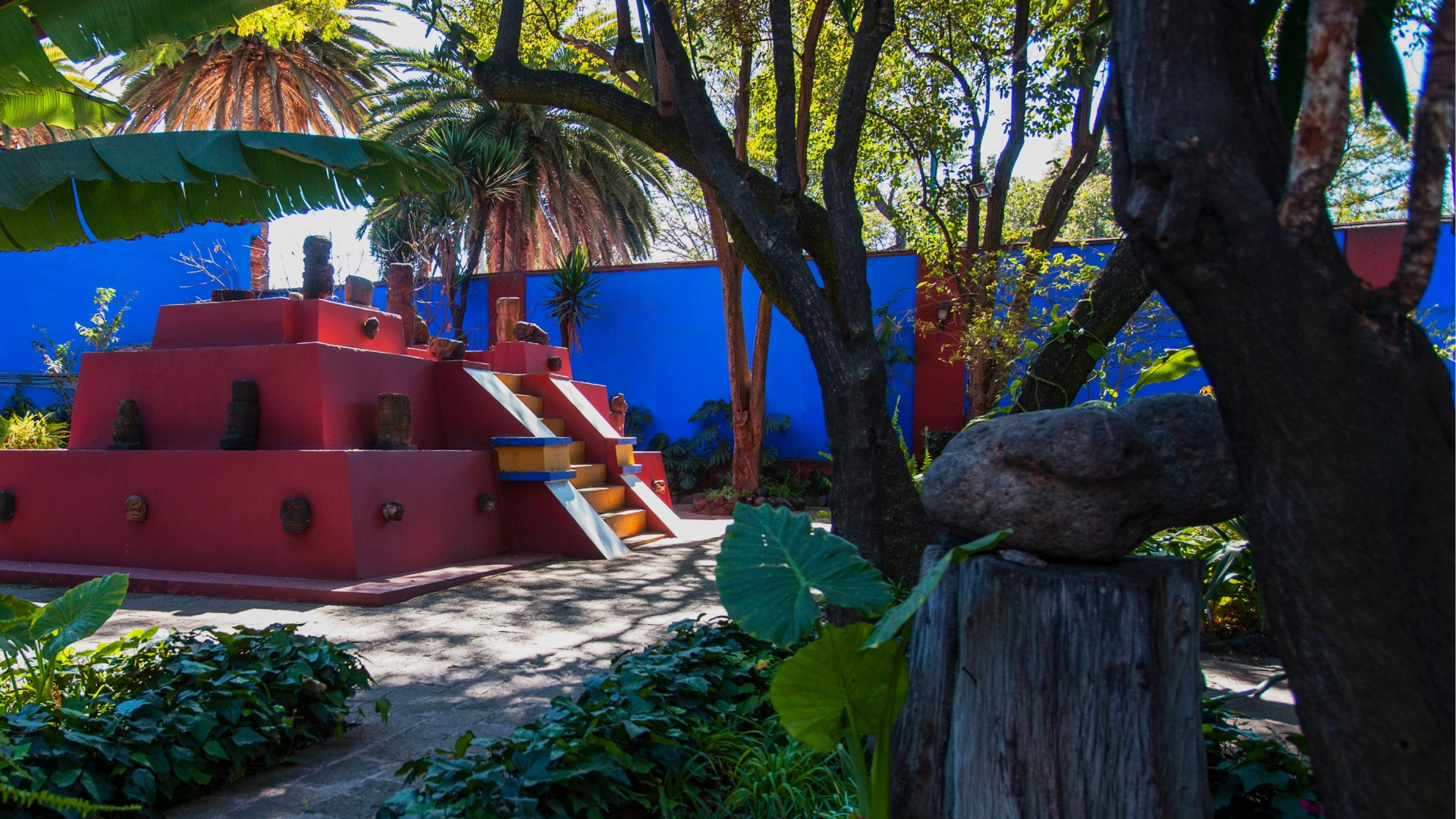 Schedules
Monday: closed
Tuesday: 10:00 – 18:00 h
Wednesday: 11:00 – 18:00 h
Thursday to Sunday: 10:00 – 18:00 h
Special hours:
September 15: 10:00 – 14:00 h
December 24 and 31: 10:00 – 14:00 h
Closed for holidays:
January 1st
May 1
September 16
December 14 and 25
Location
Londres 247,
Col. Del Carmen,
Coyoacán, CDMX,
México, 04100
Admission
NO IN-PERSON TICKET SALES.
GENERAL ADMISSION 
$250.00 Monday to Friday
$270.00 Saturdays and Sundays
NATIONAL ADMISSION
(with valid official identification)
$110.00 Monday through Friday
$130.00 Saturdays and Sundays
STUDENTS AND TEACHERS
(with valid identification)
$50.00 high school students and above
$25.00 elementary and middle school students
$50.00 teachers
SENIORS
$25.00
GUIDES AND TOUR OPERATORS
$50.00
PERMISSION TO TAKE PHOTOGRAPHS WITHOUT FLASH
$30.00
FREE ADMISSION
Children 6 years or younger, accompanied.
People with disabilities.
People with limited resources.
Card payments are accepted
MasterCard, VISA and AMERICAN EXPRESS (not valid for online payments) Prices in MXN.
With your payment, we maintain the Museum, and we conserve and restore the collection Frida Kahlo-Diego Rivera.
Admission includes courtesy to visit the Diego Rivera-Anahuacalli Museum, in Coyoacan.
Regulation
The Museum reserves the right to bar admission to anyone:
violent
under the effects of toxic substances
chewing gum
carrying:

suitcases
sharp objects
firearms
pets (except for service animals with a copy of a medical document certifying the need)
Items that must be left at the coat check (service temporarily closed):
bags or packages larger than 35 cm / 13¾ in.
umbrellas
food
toys
liquids
selfie-sticks
strollers and baby carriers
Inside the Museum:
Register before entering if you are there for work purposes (suppliers, tour guides, tour operators, the press)
Remove your hat, cap, and sunglasses.
Do not touch any artwork on display indoors and outdoors.
Turn off your cellphone and other devices.
Respect the barriers marking restricted areas.
Do no record videos anywhere in the Museum (indoors and outdoors).
You may take photos in the outdoor patios and gardens.
You may take photos without flash indoors once you buy a permit at the ticket booth.
Do not give guided tours or explanations to groups indoors.
Supervise your children during the visit; try to hold their hand; no running and playing are permitted.
Safe museum
When you enter, scan QR code or send SMS with folio fkls3js al 51515.
Check your temperature is lower than 37.5º.
Pay services only by card.
No belongings larger than 35 x 20 cm / 13¾ x 7⅞ in. (coat check temporarily closed).
Maintain a safe distance.
Wear a facemask.
Use hand sanitizer from Museum dispensers.
Do not touch any surface.
Once you exit, do not re-enter.
Guided visits
School tours
Enjoy the Museum patios, based on your category (preschool, primary, secondary, high school, higher learning and experts).
Guided tours for our community
Committed to our community, we offer tours to seniors, children's homes, and persons with intellectual, visual, hearing, or motor disabilities.
Dramatized tours
Enjoy the performance Feet, what do I need them for, if I have wings to fly, presented by the Asociación Teatral Luna de Plata.
Virtual tours
We want to be closer to you. Come with us on our virtual guided tours on Zoom.
Private and corporate tours
At the Frida we want to meet you.

Enjoy the stories of the people who lived in this house and the world where Frida lived, beneath the shade of the trees where she once wandered.
Accessibility
As a House Museum, we must preserve the original architectural design. Nevertheless, there is free admission and support for visitors with a disability: special parking spots, wheelchairs, crutches, ramps, an elevator, labels in Braille for certain areas, personnel trained in Mexican Sign Language.
Fridabus
Let the Fridabus take you! Roundtrip from the Museo Frida Kahlo to the Museo Diego Rivera Anahuacalli, in Coyoacán.
Costs: (MX pesos)
$160 adults
$80 children under 8
It includes transport, admission to both Museums and their temporary exhibitions.
On sale only at the Museo Frida Kahlo.
Hours:
Weekends
*Service provided by Autobuses Estrella Roja
* Subject to availability
Video guide
$80 general public
$50 students
*Subject to availability
Shop and Coffee
Museum shop:
Get something to remind you of Frida: jewelry, souvenirs, art books, and much more.
Tuesday to Sunday: 10:00 – 18:00 h
Wednesday: 11:00 – 18:00 h
Coffee:
Indulge your cravings!
Tuesday to Sunday: 10:00 – 18:00 h
Wednesday: 11:00 – 18:00 h